Are you looking to invest in eco-friendly clothes but think that a sustainable closet is expensive? Well, it is not. Investing in an organic piece of clothing item is when you invest for the betterment of the future. There are many ways to stretch your budget while reducing your carbon footprint. From opting for sustainable accessories to only buying natural and locally-sourced fabrics, you'll be surprised to know how easy it can be to find sustainable fashion when you are on a budget.
But it takes time to create an ethical closet. It's not an overnight activity. It requires a shift in mindset first to change the way you think about the clothing you buy and wear.
You have to be mindful of what you add and take out of your closet.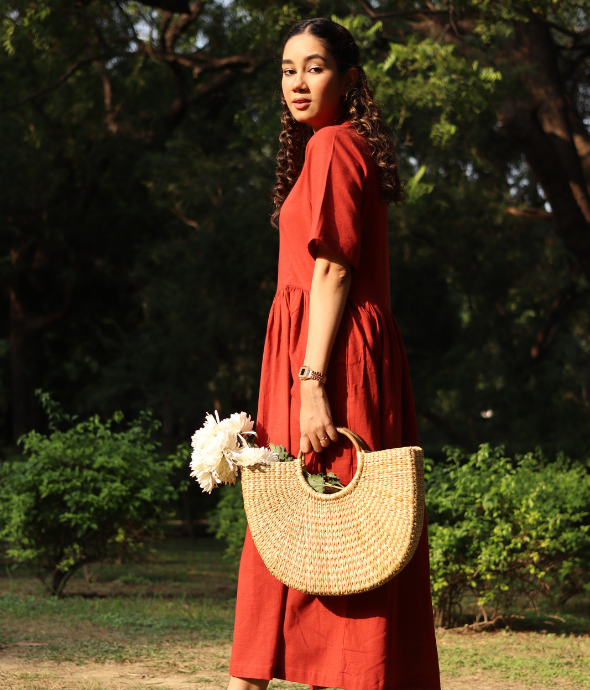 1. Set a Budget of sustainable closet
If your plan is to save some money while revamping the closet then make a budget and stick to it when you go out shopping. Think about how much will you spend on all the pieces, and make a list of what you need. Ask yourself questions like, how much you'd like to spend on each item.
2. Identify The Gaps
After your budget is set, know what is it that you are looking for. If you are a working professional, invest in classic and timeless pieces like power suits, crisp button-downs and accessories. Take inspirations from magazines or maybe your fav actor to work on your vision board of the kind of items you want to add to your closet. Now that you know about your personal style, you'll be able to narrow down your search, and you'll be much less likely to buy clothes that you won't use.
3. Invest In Natural Materials
Invest in quality natural materials like– cotton, linen, silk, hemp or innovative fabrics like tencel, modal. Also, one of the important and easiest ways to have a versatile wardrobe is to stick to the neutral colour palette. This way you can mix and match for different outfits and occasions. From that neutral base, you can accessorize with different colours according to the season or mood.
4. Stick With Classics
Make sure you're buying clothes that you'll wear for a long time. This way you will save money and prevent environmental waste. So invest in classic styles that will remain popular for a long time rather than buying based on quickly-changing trends.
5. Invest in Basics
This might be a bit more expensive, but it's important to invest well in your basics, especially since you'll be wearing them for a long time. Buy long-lasting and versatile pieces; make sure that your outer and daily wear such as coats, bags, and shoes are durable since they're going to get the most wear and tear.
6. Sharing Is Caring
The best way to maintain an affordable and eco-friendly wardrobe is to swap clothes with your friends. You can even share clothes for special occasions. This way, you all be excited for "new" clothes without spending money or adding to your carbon footprint.
Involving friends who share the same concerns about the environment and pocket can be a great system for encouragement and accountability
7. Be Mindful
While shopping, shop mindfully. Choose to buy from sustainable/ ethical clothing brands. Shopping mindfully means carefully considering each item before buying, and not feeling pressured to buy something every time you visit a store. Instead, think about how each piece fits with your budget, style, and colour palette.
8. Launder With Care
Buying clothes built to last is one thing — but there's a lot you can do to make them endure. Always read care labels before washing any items. Think twice before putting your clothes in the dryer as it is one of the most damaging things for any garment. Instead of using the machine, air-dry your clothes; this will make your clothes last a lot longer, and you'll save a lot of energy in the process, too!
9. Be At Ease
A mindful closet is an organized closet. It is not possible to be conscious about what you own when you can't see anything. Decluttering your closet is the first step to being able to truly see what you own, and what you wear more often.
10. Donate!
To keep this sustainable cycle going, donate your garment when you're finished wearing it. You can give it to a local charity or second-hand shop, or if it's not in a wearable condition anymore, you can recycle the fabric at a local recycling centre.